Automatic gas filling machine with weighing & filling device KOC-101
Application
This machine can prevent the rice from oxidization and deterioration, and keep the taste and flavor of the new rice. Additionally CO2 can inhibit molds and insects well, and it leads to the long storage.
Feature
Special tray and upper films are used on this machine.
The products can be placed easily and suitable for OTC sale.
Operator can do the below procedure automatically with this machine.
Tray feeding, Weighing, pre-sealing, cutting the upper film, forwarding to the rotary table, vacuum, gas filling, definitive sealing, discharge, label affixing (optional), takeoff the products.
Specification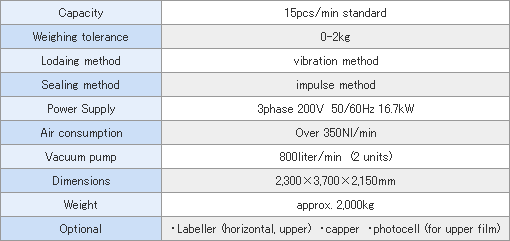 Automatic Machine