Outline of operation
The following operations are automated and run continuously.
Selection of grinding patterns on the computer display.
Placement of unfinished needle tubing on the carrying jig to be loaded onto the conveyor.
Operation (Jig feed, 1st and 2nd bevel grinding, and unloading of jigs)
Deburring (Liquid honing system)
Feature
CNC Hypodermic Needle Grinding System is a computer controlled highprecision grinding machine to grind the needle tube(Cannula), IV ,hypodermic needle and lancent.
The registered number of grinding patterns exceeds 500 types, enabling the machine to meet a wide variety of hypodermic needle grinding requirements.
Addition of optional equipment such as automatic needle take-up mechanism, jigs for unfinished needle tubing, and the jig-carrying conveyor can create production line that is fully automated from the supply of Jigs through to deburring.
Grindable Gauge(Sizes) from 15Gauge to 26Gauge.
Specification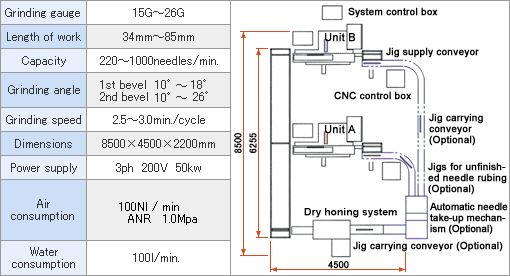 Work lengths of 26-33mm are optional.
Medical Related Equipments