Outline of operation
The following operations are automated and run continuously.
Tape-set pieces of needle tubing are drawn out of the bobbins installed in the needle tubing feeder.
Pieces of needle tubing are clamped one by one by the tubing clamping device installed on the turn table, and subjected to the 1st and 2nd bevel grinding stages.
Tapes are rewound again onto the sticking bobbins.
Feature
Rotary Hypodermic Needle Grinding System is a highly efficient as well as high-precision hypodermic needle grinding machine capable of grinding a maximum of 2200 needles/min.
Example of acceptable needles:Cannula, IV ,hypodermic needle and lancent.
Furthermore, it achieves this output with minimal deviation from the specified length and angle of finished products.
The inclusion of the needle tubing taping device and needle tubing detaching device enable the production line to be operated fully automatically.
Grindable Gauge(Sizes) from 18Gauge to 23Gauge.
Specification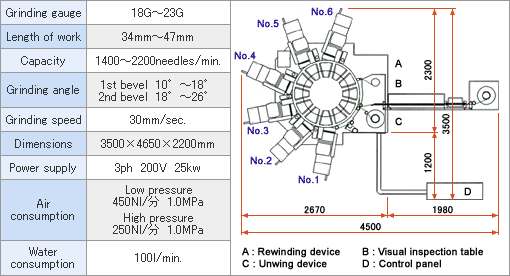 Grinding gauges of 25G and 26G, work lengths of 26-33mm are optional.
Medical Related Equipments