Automatic hot water sterilizer HW Series
Feature
As explained in Fig.1, the time required to reach pasteurizing temperature is different between in the case of boiled water and steam due to the difference of coefficient of thermal conductivity, and the heat conductivity is higher in boiled water. In this machine sterilization and cooling are done in the different cisterns separately.
This machine is designed to put 500-1500 bags into the basket at a time and do the process from sterilization to cooling. This leads to the smaller footprint and high throughput. (Note : Maximum carrying capacity of a basket is 100kg.)
As indicated in Fig.2, in the both cisterns the basket moves up and down slightly and automatically to keep the constant water flow.
This leads to the uniform sterilization/cooling of each bag.
Activation
All the basket moves automatically. (with operation switch-board)
The sterilization/cooling time is adjusted optionally by a timer.
Capacity
The dimensions of each basket : Please refer the below specification table.
In the case of 1000 bags in a basket, the output is 2000 bags per hour
(sterilization time : 30 minutes)
In the case of 1500 bags in a basket, the output is 4500 bags per hour
(sterilization time : 20 minutes)
Specification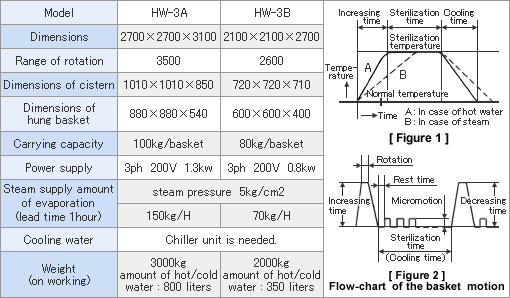 Cisterns : stainless steel (SUS 304), Frame : Heat-stable coated shape steel, Conveyor : Driven with stainless steel chain and constructed with cottony net (only HWC model)
Power supply : 3ph 200V 50/60Hz
Steam and water supply : the boiler and water supply used in your factory will be adopted. (connection at optional)
Sterilization temperature : automatically controlled
Sterilization time : 10-60 minutes
Other Machines